National Patient Webinar - Is Your Sacroiliac Joint to Blame for Your Low Back Pain?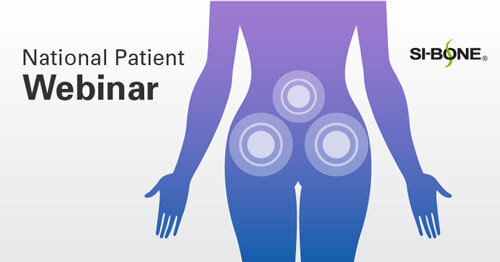 Where

National Patient Webinar
When

Sep 20, 2023 - 7:00 pm EDT
Speaker(s)

Dr. Kasra Ahmadinia, Cara
Speaker(s)
Dr. Kasra Ahmadinia
Orthopedic Spine and Trauma Surgeon*
*Paid Consultant for SI-BONE, Inc.
Speakers: Dr. Kasra Ahmadinia, Board-certified and Fellowship-trained, Orthopedic Spine Surgeon
& SI Buddy and iFuse Patient, Cara

Join us to hear Dr. Ahmadinia present on a commonly under-diagnosed cause of low back pain: the Sacroiliac (SI) Joint. The SI Joint may be a pain generator in 15-30% of patients with chronic lower back pain and even higher (up to 43%) for patients with continued or new-onset low back pain after a previous lumbar fusion.* Dr. Ahmadinia will review anatomy, causes and symptoms of SI joint dysfunction, diagnosis, and treatment options--both non-surgical and surgical. SI Buddy and iFuse Patient, Cara, will join the discussion to recount her experience with SI Joint dysfunction and treatment with the iFuse Implant System.

*Rashbaum – Clin Spine Surg 2016
Important Safety Information: https://si-bone.com/risks
Location: Virtual Webinar

Time: 7:00 - 8:00 PM EDT
This event is co-sponsored by SI-BONE, Inc.
Important Safety Information: https://si-bone.com/risks


Sponsors