Ambulatory Surgery Center
iFuse / iFuse 3DTM and iFuse TORQ®: Unique, Additional Service Lines for the ASC Setting
Quick Links:
If you would like to receive additional information or to speak with a member of the SI-BONE ASC team, please complete the form below.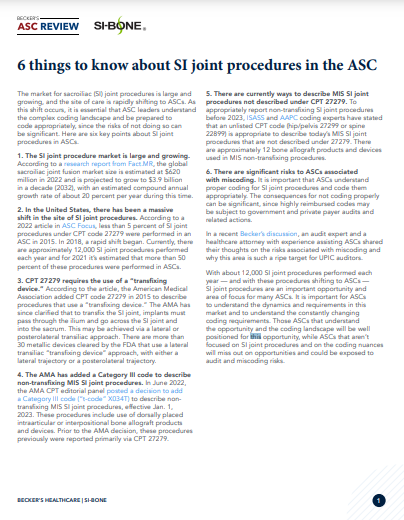 Becker's ASC Review - 6 Things to Know About the SI Joint Procedure in the ASC
Consider the iFuse procedure if you are looking to develop an orthopedic or spine program at your facility.
Download this Document
"A game changer for patients and ASCs"
iFuse Procedure
Procedure is < 1 hour
1 simple tray
No biologics needed for fusion
Minimally invasive & reproducible
iFuse Advantages
Patented, triangular design
Clinical evidence: More than 100 published, peer-reviewed articles have demonstrated the safety, effectiveness, durability and economic benefit of the iFuse implant, available since 2009.
Reimbursement: Virtually universal payor coverage
Strength of experience: Tens of thousands of patients have subsequently been treated with iFuse by thousands of trained surgeons around the world. Not only have our clinical studies proven positive results, but our patients and providers have experienced it firsthand.
91% patient satisfaction rating
SI-BONE Offers…
ASC education & resources
Reimbursement resources
Community education opportunities
Sales force devoted exclusively to sacropelvic solutions
Learn
SI Joint and iFuse Implant System Training
SI-BONE offers training on SI joint diagnosis and treatment for healthcare providers. Learn more about SI joint training opportunities.
Find Out More
To Receive Additional Information